KingsPower
Regular price
Sale price
€109,99
Unit price
per
Sale
Sold out
Have you ever experienced the annoying cold feeling in winter days even with your warmest winter coat on? Have you dreamed of a warming body warmer that provides you with instant warmth? At KingsPower we understand your needs and that's why we present you our warming body warmer.
PRODUCT DESCRIPTION
The KingsPower warming bodywarmer for men and women. A winter vest designed to provide warmth and comfort on cold days. This vest includes a free rechargeable power bank that enables heating and adjusts the desired heat setting via the control knob on the front.
It is a comfortable and convenient solution to keep warm on cold days. In addition, its elegant and lightweight design is suitable for various situations and occasions, from a walk in the park, outdoor activities to a night out. With the warming body warmer from KingsPower you no longer have to worry about uncomfortable cold on winter days.
Main features of the KingsPower warming bodywarmer
Heated Vest Men & Women: The heated vest is a versatile and comfortable garment designed to adapt to the lifestyles of both men and women.
Heating technology : The vest has 3 heating zones (neck, back and front) for an optimal heat experience.
High-quality materials : The outside of the vest is made of a combination of nylon and polyester, making it water-repellent and windproof. The inner lining consists of 100% soft fleece polyester for extra comfort.
Comfort: The inner lining of soft fleece-polyester provides extra comfort, so that you feel warm and comfortable.
Water resistance: Thanks to the combination of nylon and polyester, the vest is water-repellent and protects you against rain and snow.
Warmth without heating : The vest is filled with polyester, which ensures that it is always warm, even without heating elements.
Details : The heating elements are placed close to the pockets, so that you can also warm up your hands.
3 heat settings to suit your needs
The KingsPower warming bodywarmer gives you the freedom to choose the perfect heat setting. With its three available heat settings, you can always find the right temperature for every situation.
Firstly, we have the setting of 45ºC, which offers you gentle heating for 10 hours. If you prefer an average temperature, you can choose the setting of 52ºC, which will keep you warm for 8 hours. Finally, for the colder days, we have the 60ºC setting, which offers you intensive heating for 6 hours.
These three heat settings are available via simple controls on the front of the vest, making them easy to adjust. In addition, each heat setting is indicated by a different color for quick identification.
Additional benefits of the heated bodywarmer for health.
In addition to a wonderfully warm body, a good heated body warmer also has other advantages. The heat promotes blood circulation in the body. In addition, it can also provide relief from muscle pain and cold-related body complaints.
Made with quality materials for optimal warmth and protection.
We can guarantee you 100% that you will never be out in the cold again. For this we have used carefully chosen materials for the development of the vest. For example, the outside of the men's body warmer consists of a combination of nylon and polyester. This ensures that the outdoor body warmer is water-repellent and windproof. In addition, it also retains the heat extra well.
The lining consists of 100% soft fleece polyester. This makes the fleece body warmer feel soft and it is also very comfortable.
The filling is polyester. This ensures that the body warmer is always warm, even without the heat regulation on. In addition, there are heating elements at the neck, middle of the back and on both sides at the front near the pockets.
Power bank for the vest
A 10,000 mah power bank is required to heat the body warmer. This is included as standard with the heated body warmer. Of course it is also possible to use the power bank to charge your phone, for example, or to connect another power bank to the vest. The power bank can be connected in the inner pocket to a USB connection in the vest. The power bank is not water resistant. We therefore advise against taking the power bank with you when it rains.
Washing the electric bodywarmer
It is possible to wash the body warmer by hand or in the washing machine. We recommend washing the bodywarmer in a washing bag at 30 degrees for extra protection. Always remove the power bank before washing.
What our customers say
⭐⭐⭐⭐⭐ - Sander
"Beautiful bodywarmer that keeps me nice and warm in the winter thanks to the included power bank. Sometimes I put it on under a normal jacket so that I get extra warm."
⭐⭐⭐⭐⭐ - Benjamin
"I've wanted this product for a long time. I first tried a cheaper version of 77 euros but it didn't heat up properly. This body warmer is a bit more expensive but really worth every penny!!! I'm very satisfied!!! It warms up quickly and good. I use it outside but also inside to reduce energy costs"
30 Day Warranty
At KingsPower, we ensure that all our customers are completely satisfied with their purchases. That's why we offer a 30-day quality guarantee on our warming body warmer. If for any reason you are not satisfied with your purchase, let us know within the first 30 days and we will offer you a full refund or an exchange for another product of equal value.
This guarantee shows that we are confident in the quality and effectiveness of our warming gilet, and shows that we are committed to providing the best experience for our customers. So don't hesitate to make the decision to invest in a KingsPower heated vest and experience the difference in warmth and comfort during the winter days."
Think back to the intense cold of the past and give yourself a warm winter feeling this year!


Parts
View full details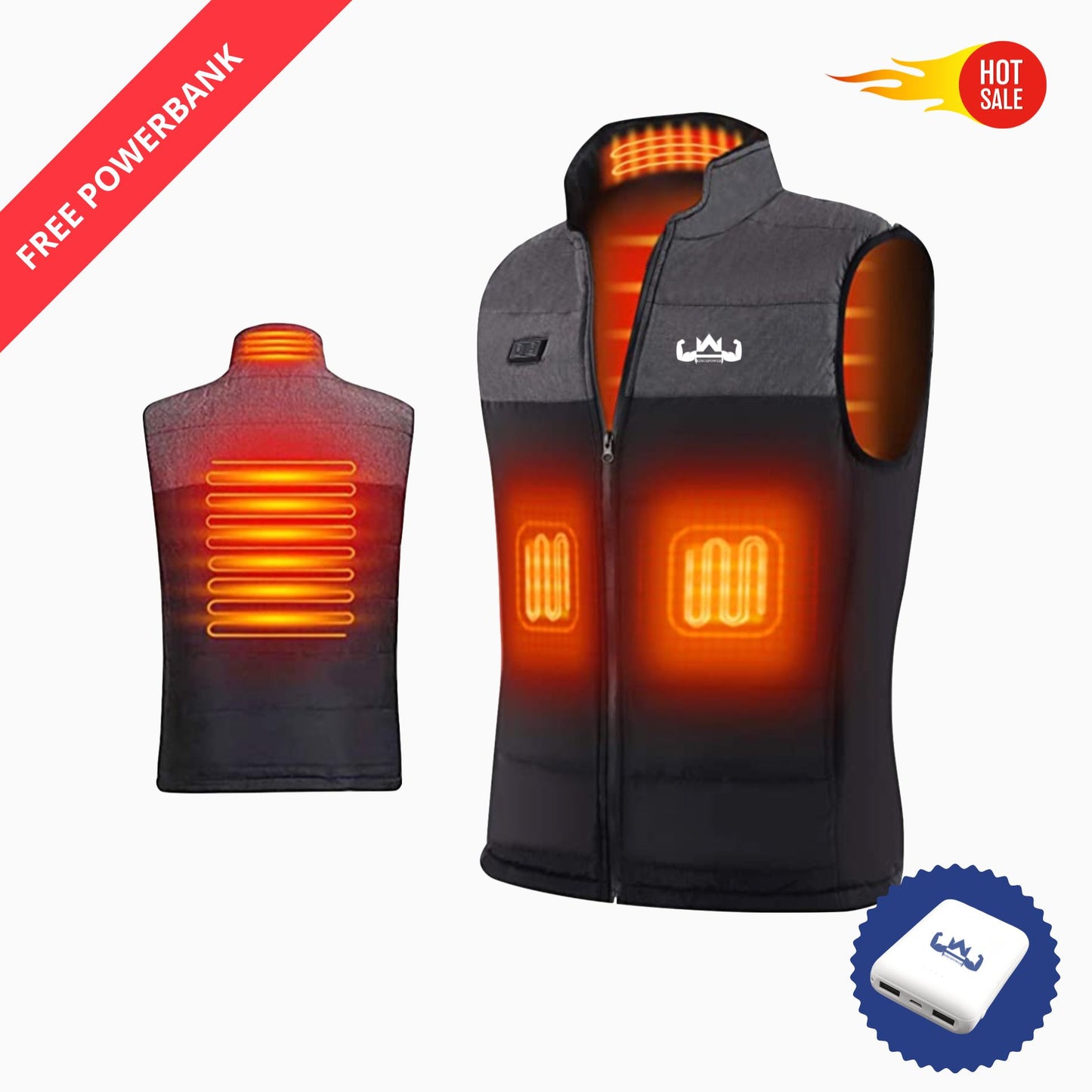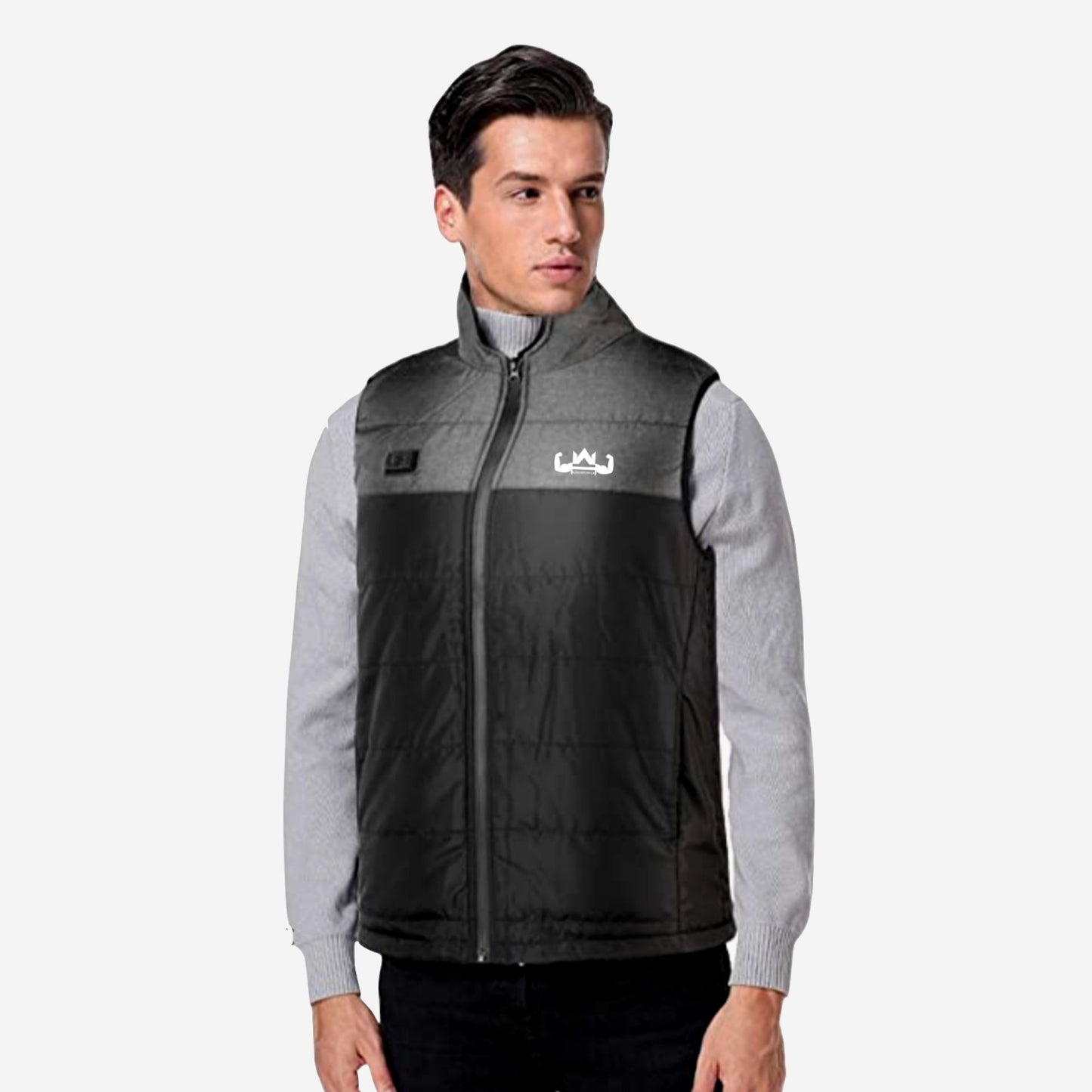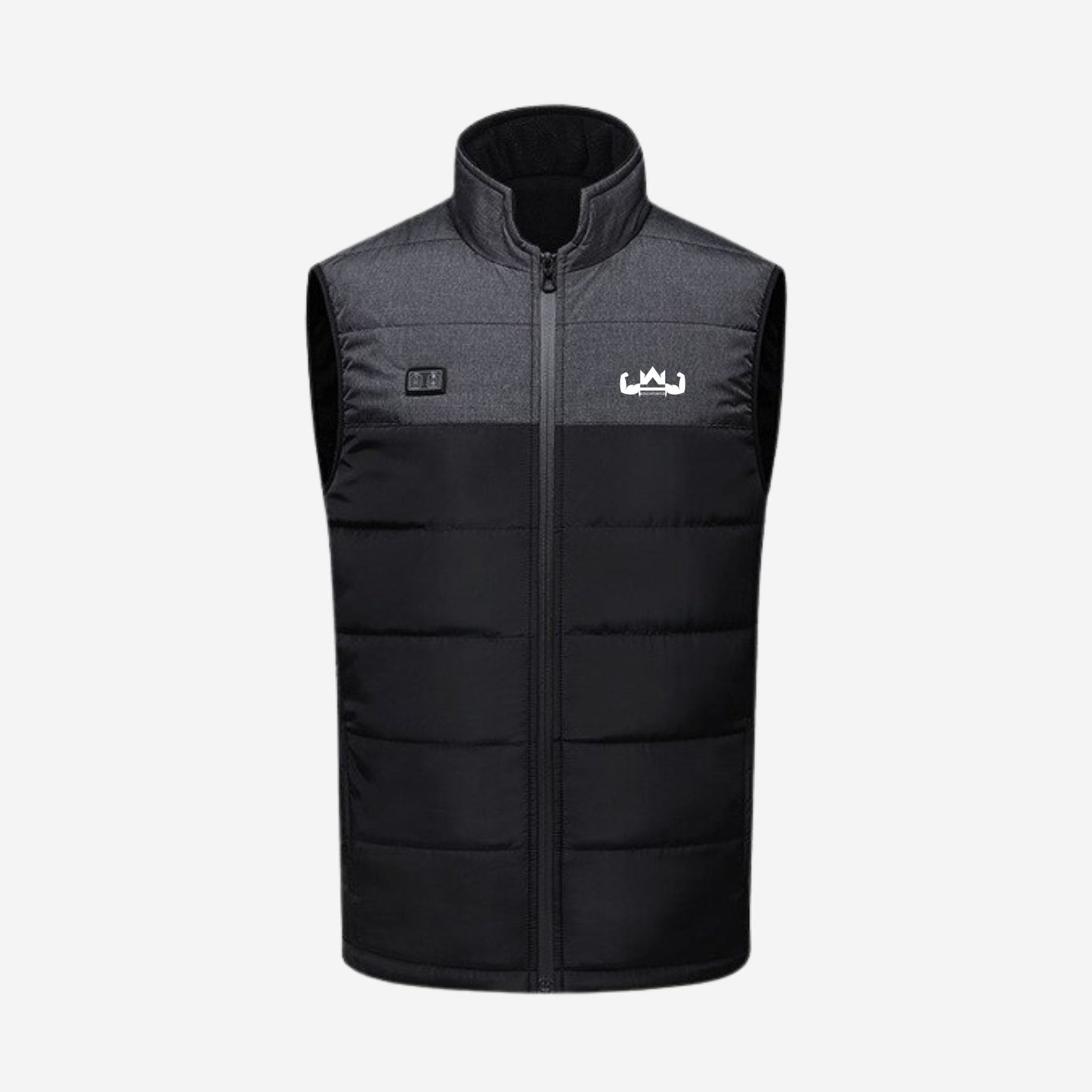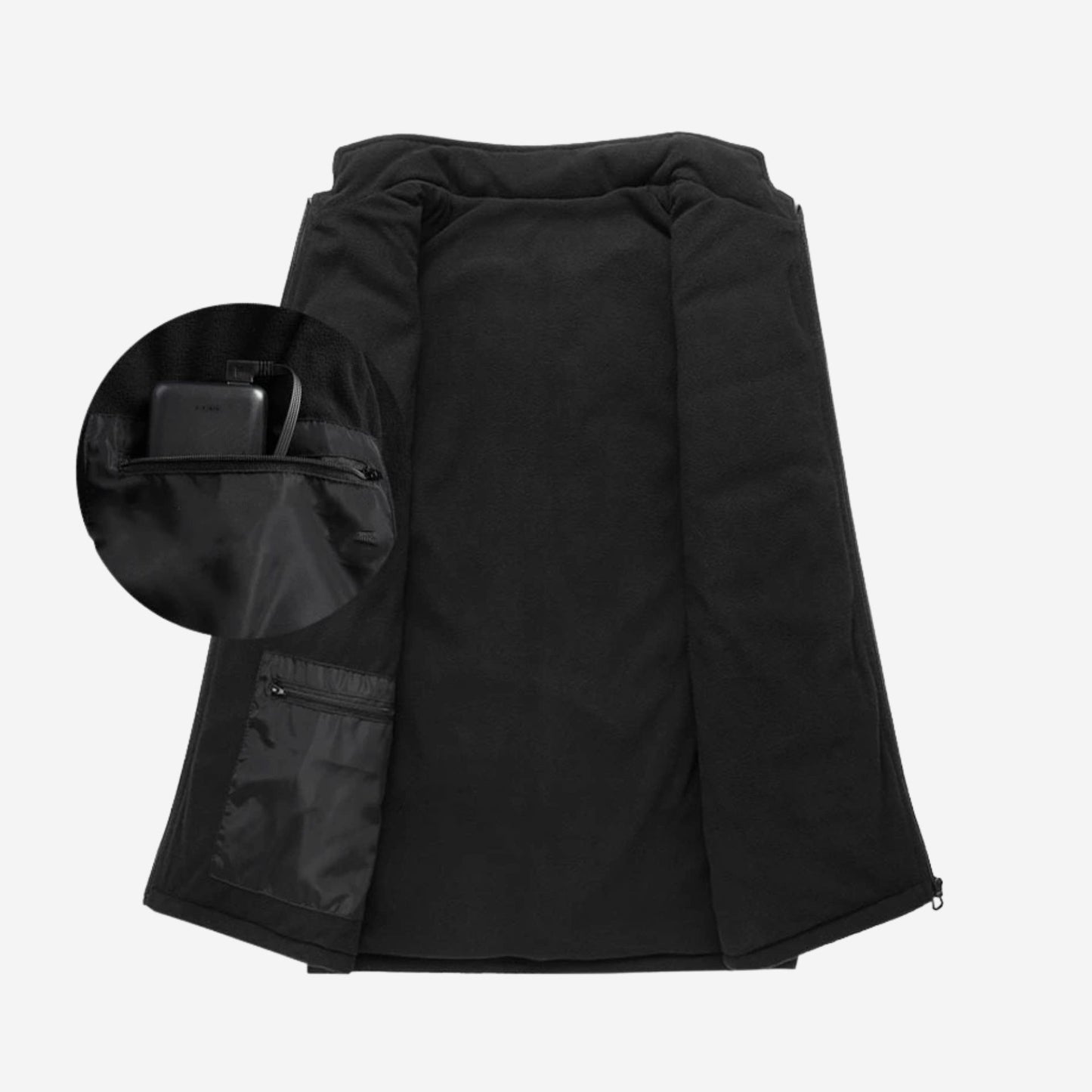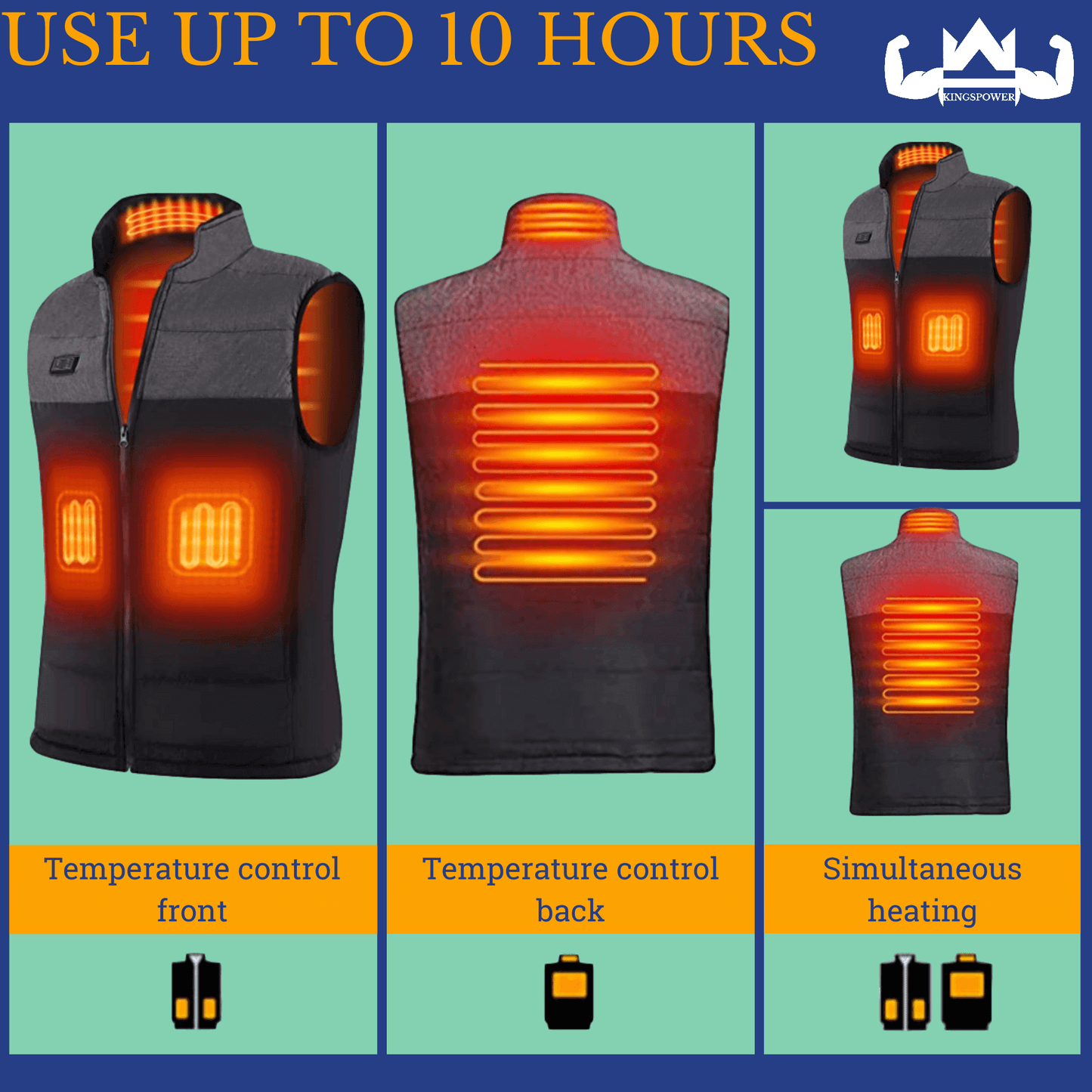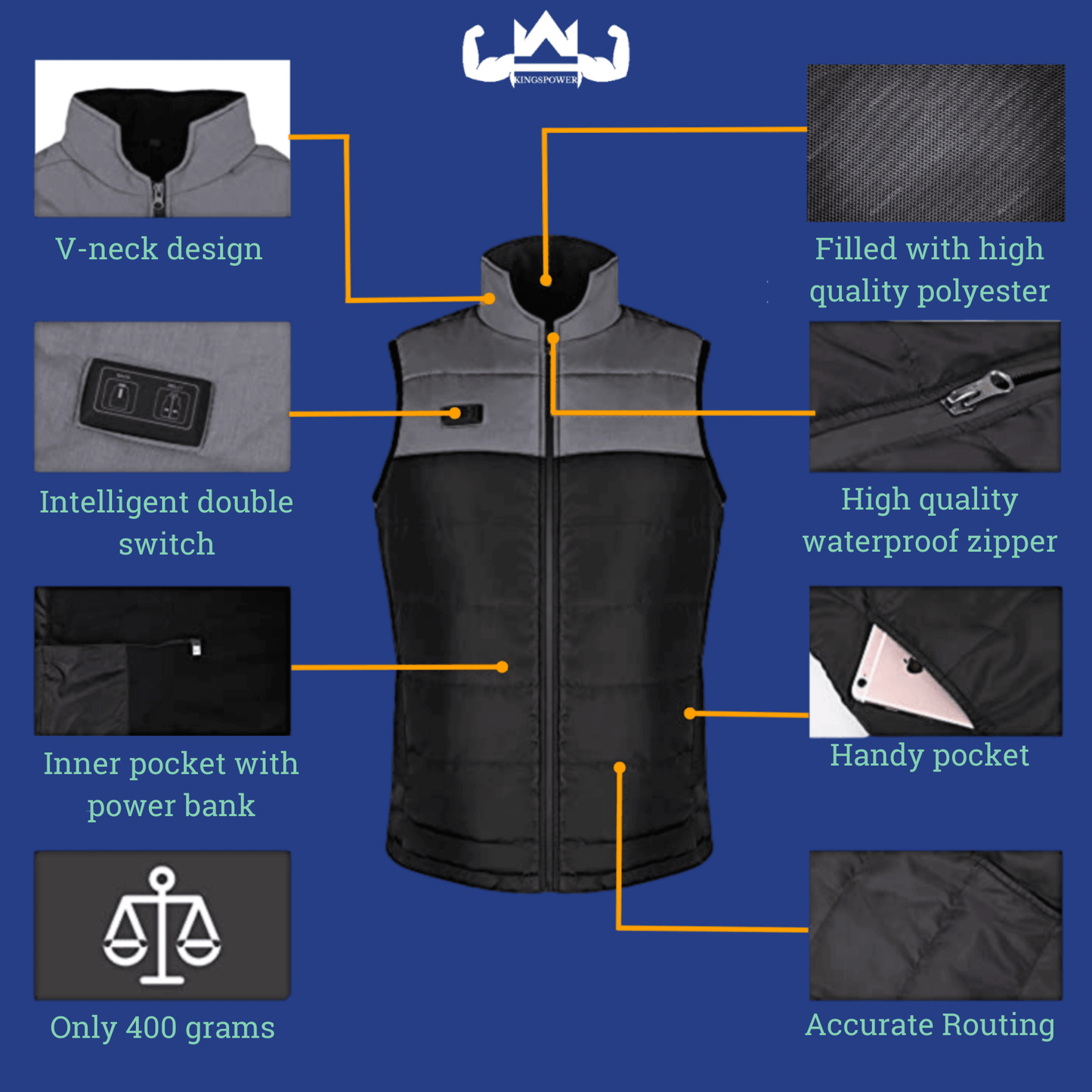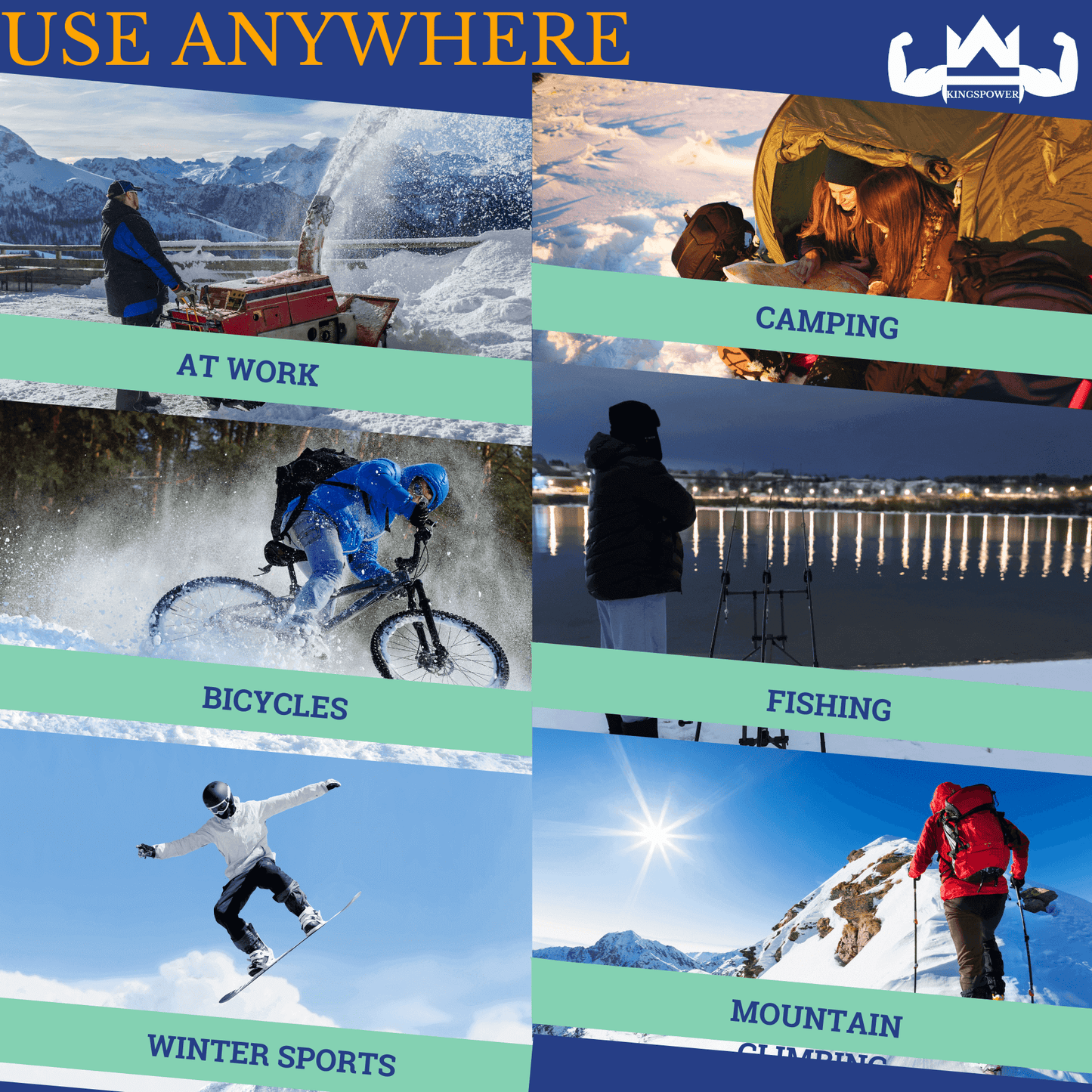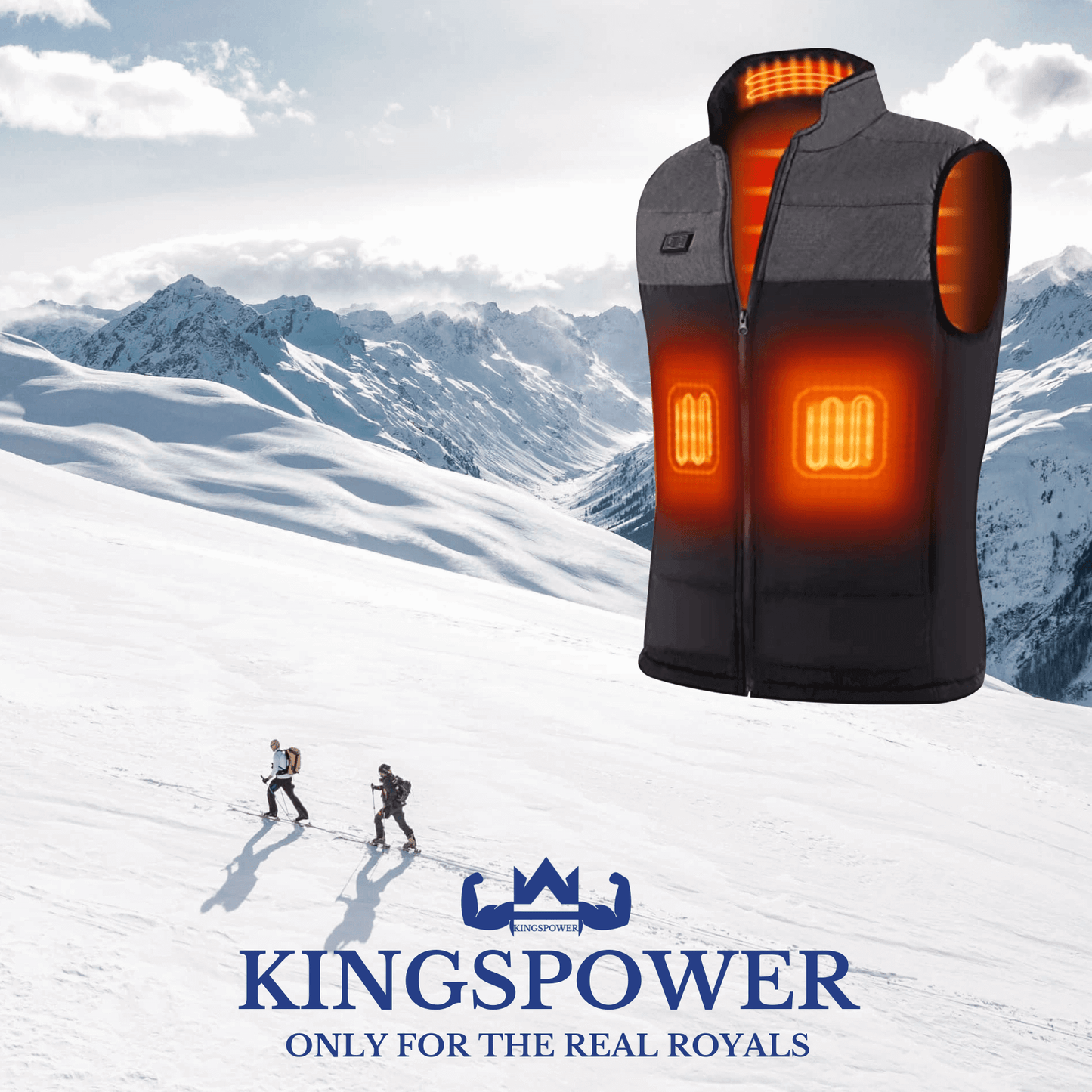 FAQ
How do the sizes run?

The sizes are small, we therefore advise you to take a size larger than normal. scroll down for a precise size indication or look at this page.

Size chart heated vest

| | | |
| --- | --- | --- |
| Mate | Body warmer length (CM) | Chest Circumference (CM) |
| S | 62.5 | 96 |
| m | 63.5 | 100 |
| L | 64.5 | 104 |
| XL | 65.5 | 108 |
| XXL | 66.5 | 112 |
| XXXL | 67.5 | 116 |
| XXXXL | 68.5 | 120 |

Heated jacket size chart

| | | | |
| --- | --- | --- | --- |
| Mate | Coat length (CM) | Chest Circumference (CM) | Sleeve length (cm) |
| S | 66 | 108 | 61 |
| m | 67 | 112 | 62 |
| L | 69 | 117 | 63 |
| XL | 70 | 123 | 64 |
| XXL | 72 | 128 | 65 |
| XXXL | 73 | 133 | 66 |
| XXXXL | 75 | 138 | 67 |
Is there a manual and washing instructions available?

Yes, the manual and washing instructions can be seen below or you can view the manual (with instructional video) on this page.

SUPPLIED

- KingsPower heated vest
- Charging cable power bank

STEP 1

Connect the power bank to the vest. On the inside of the vest there is an inner pocket on the right. Here the power bank can be placed and connected via the USB cable. Turn on the power bank via the button on the side.

STEP 2
Press the button on the chest of the vest and hold it for a few seconds until it lights up. Then release it.

Position 1 (red): 60º C

Position 2 (white): 52ºC

Position 3 (blue): 45ºC

STEP 3
Choose the correct position by briefly pressing the button, the button will then change color.

FOR USE
- Charge the power bank (if the 4 lights are on then it is fully charged). Charging takes up to 4 hours.
- Check whether the product is complete and in good condition, if not, please contact customer service.

STEP 4
After use, disconnect the power bank from the vest to save battery.

WASHING INSTRUCTIONS

The vest can be washed by hand or in the washing machine at no more than 30ºC, preferably in a washing bag. ATTENTION remove the power bank before washing the vest.

Hang up the vest after washing. DO NOT put it in the dryer or wring it out. Ironing is also not possible.

TO ASK?
For questions please contact: info@realkingspower.com or business@realkingspower.com for all business questions.

REVIEW


We would like to ask all our royals to leave a review via the link below. This would help us and future royals immensely, thanks in advance!
Is the power bank included as standard?

Yes! The power bank is standard with the KingsPower heated winter jacket.
How long does the shipment take?

If you order on a working day before 10 pm, your package will be delivered within 1-3 working days in the Netherlands.

If you order on a working day before 10 p.m., your package will be delivered in Belgium within 2-4 working days.

During the holidays and busy periods, the shipping time may be longer than described above.
Do I pay shipping costs?

From €50.- you pay no shipping costs in the Netherlands and Belgium.
How many days to change my mind do I have?

We have a 30-day return policy, which means you have 30 days from receipt of your item to request a return.

You can request a return by sending an email to info@realkingspower.com
How durable is the product?

Our entire range can be used from the moment of receipt without the need for fossil fuels and without further CO2 emissions. In addition, you can use this product and reduce your energy consumption at home.