KingsPower
Regular price
Sale price
€39,99
Unit price
per
Sale
Sold out
Discover the ultimate protective UV shirt for men and women from KingsPower. With SPF 50 protection and dry-wick technology, this shirt will keep you cool and protected from harmful UV rays during all your outdoor activities. It's perfect for a day at the beach, hiking in the mountains or just everyday wear. Don't worry anymore about skin burning or losing comfort during exercise, because KingsPower takes care of you. Read on to find out more about how KingsPower's UV shirt makes this possible for you!
Protection against UV rays
The sun protection shirt from KingsPower offers protection against harmful UV rays with an SPF 50 rating. This means you can stay in the sun for longer without worrying about burning or damaging your skin. With this shirt you can fully enjoy outdoor activities without risks for your skin.
Comfortable and dry
The UV protective shirt is made of dry wick material so that the sweat is quickly drained. Dry-wick is a special type of material used in UV shirts to quickly wick moisture away from the skin and keep the wearer dry and comfortable, even during intense activities in the sun. The material absorbs sweat from the body and transports it to the outer layer of the shirt, where it can quickly evaporate. This helps prevent overheating and chafing of the skin, which is especially important during sports and water activities. By using dry-wick materials, our UV shirts not only offer protection against harmful UV rays, but also provide extra comfort and better performance. The shirt is therefore ideal for long days in the sun or for use in the water.
Stylish design
The KingsPower UV shirt not only has practical advantages, but is also stylish and fashionable. The shirt has a beautiful blue color and features the white KingsPower logo on the chest and the name KingsPower on the right sleeve. This not only makes you look good, but also shows that you opt for quality.
Where and when to use?
A UV shirt can be used during different occasions. It can be used while swimming, surfing, sailing, fishing, hiking, running and other sports in the sun. It can also be worn during daily activities such as walking, gardening, shopping and so on. Our UV shirts are made of lightweight polyester and spandex, making them comfortable to wear even on hot summer days. In addition, they have a UPF rating that blocks up to 98% of UV rays. With this you can also save on your sunscreen.
In short, the KingsPower UV shirt offers optimal protection against the sun, is comfortable, dry and has a stylish design. Don't wait any longer and order your UV shirt now to fully enjoy outdoor activities without worrying about the harmful effects of the sun. Click the 'order' button now and add this great shirt to your summer wardrobe!
Parts
View full details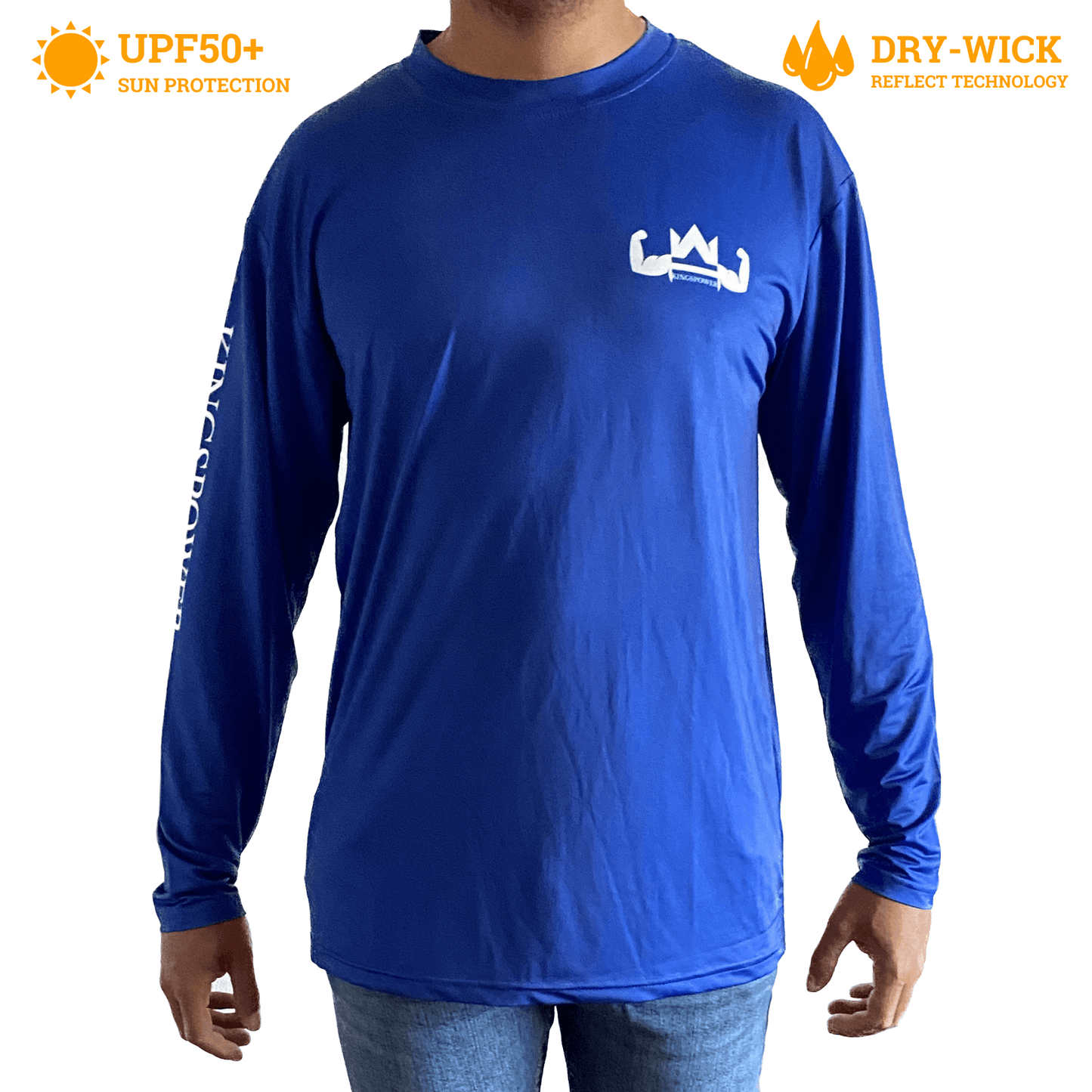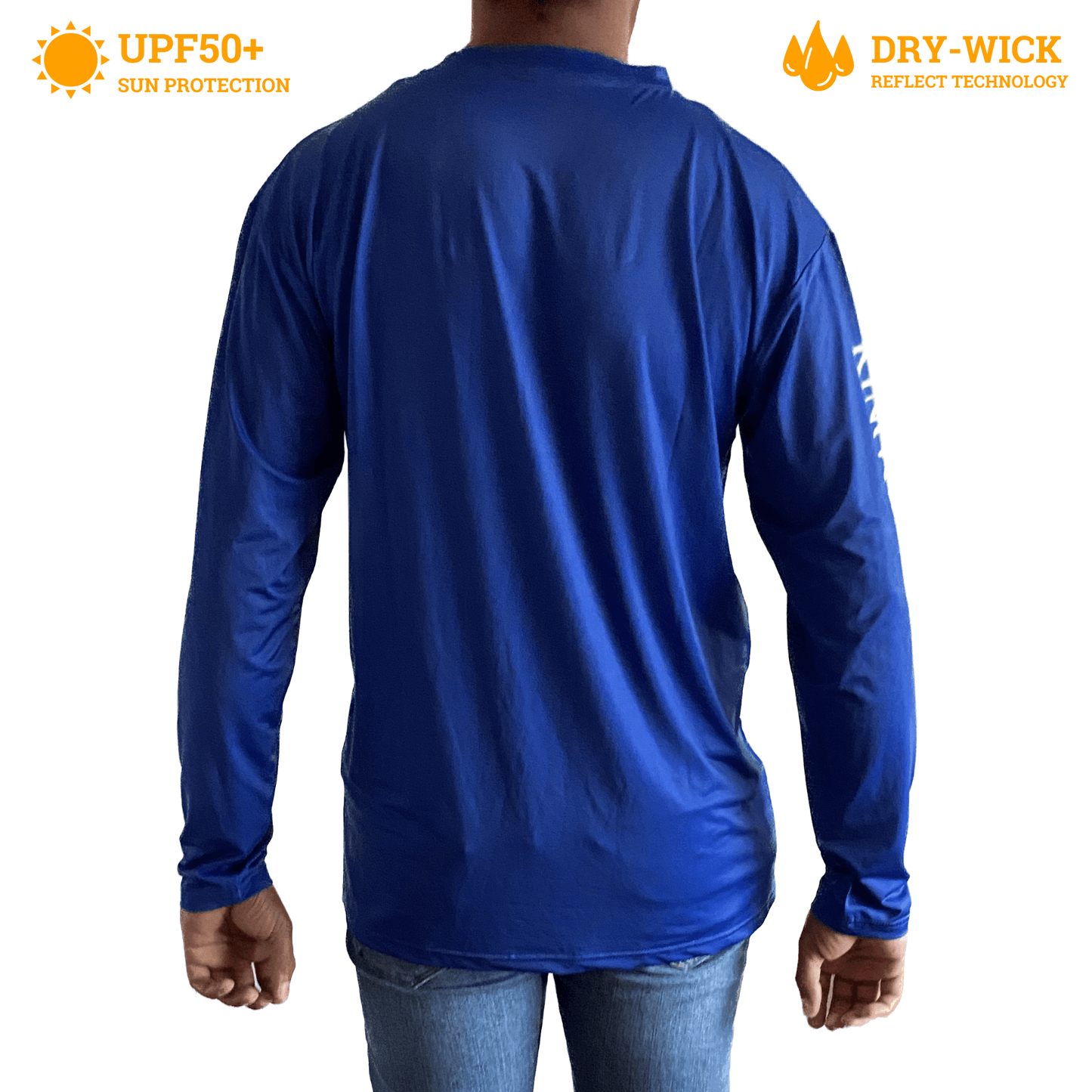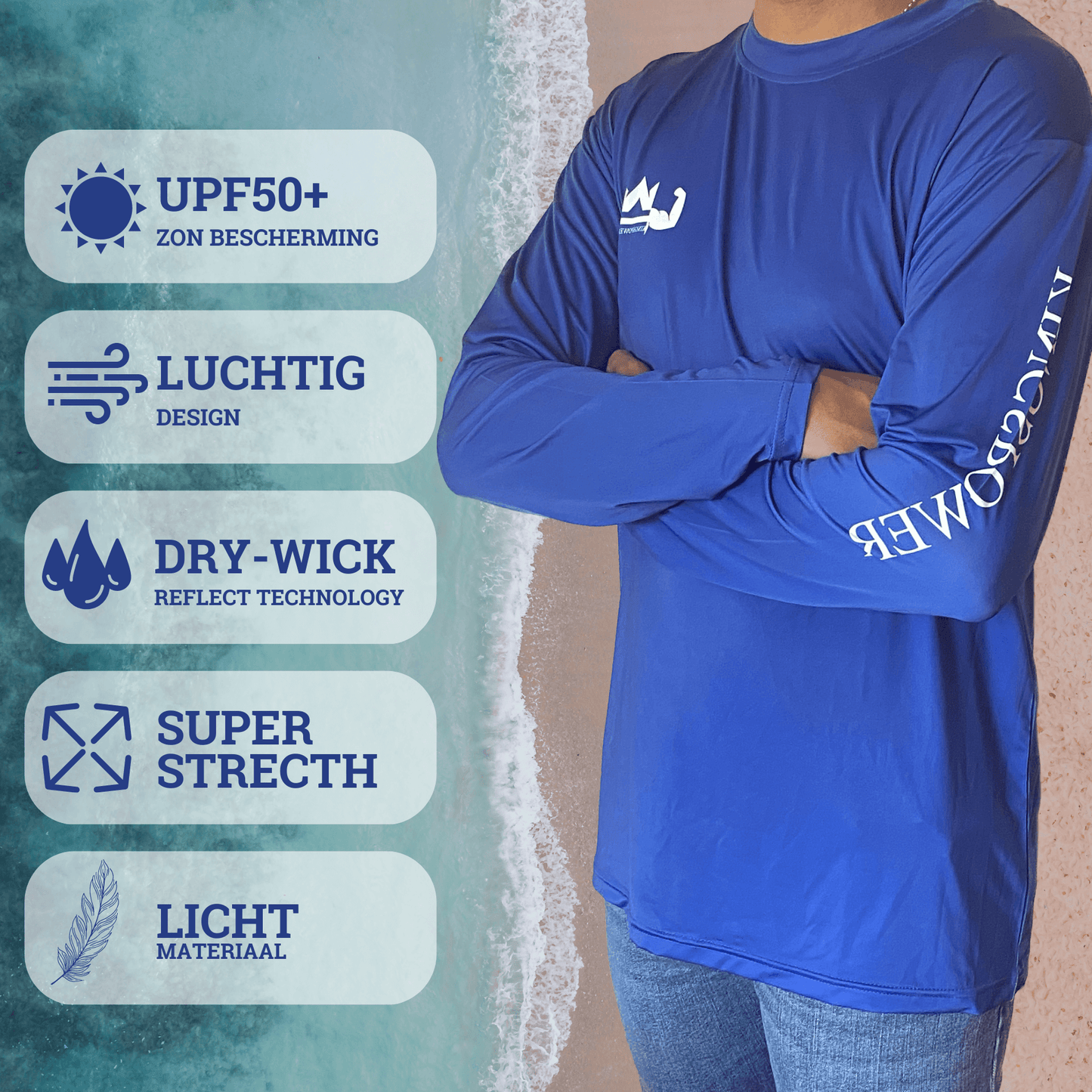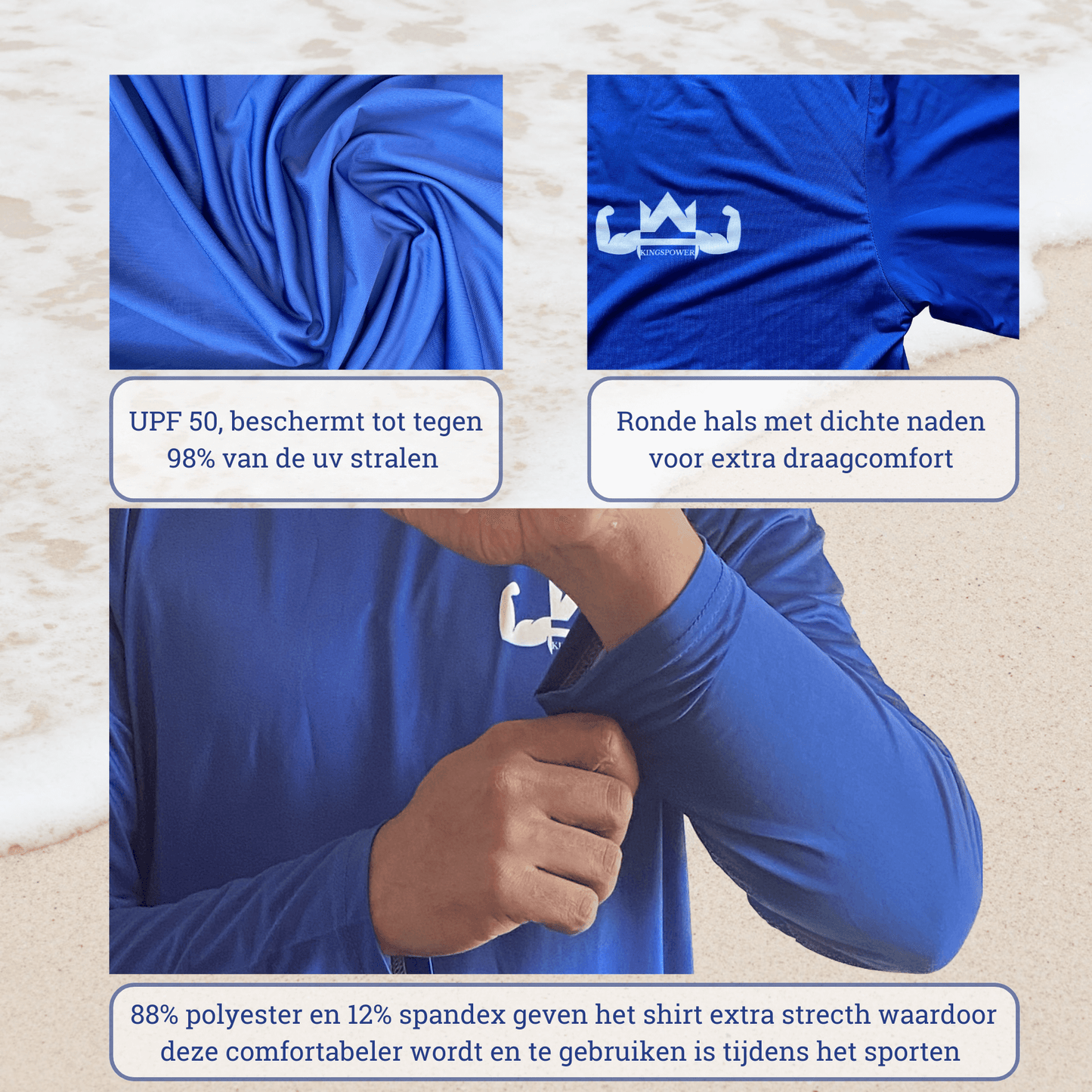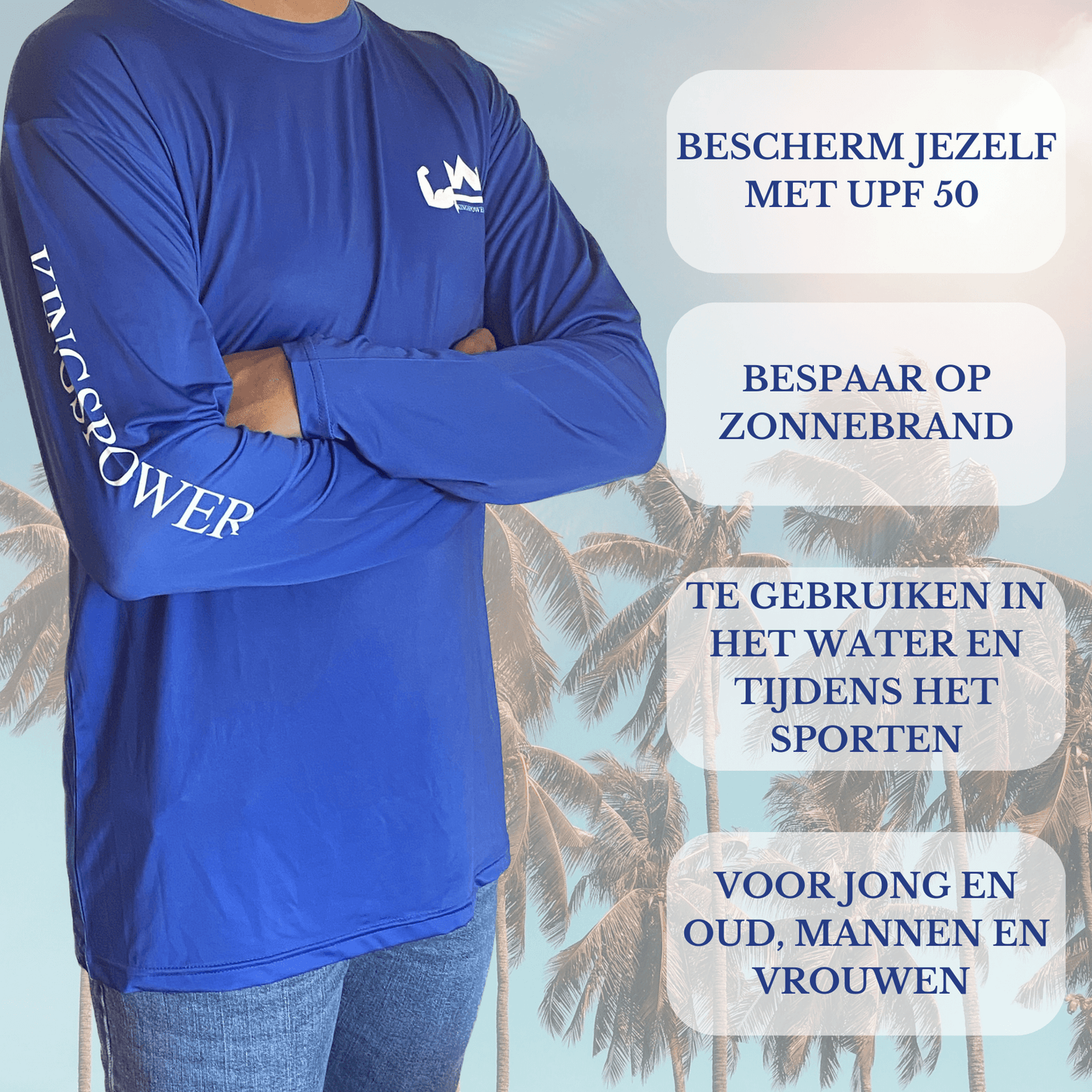 FAQ
How long does the shipment take?

If you order on a working day before 10 pm, your package will be delivered within 1-3 working days in the Netherlands.

If you order on a working day before 10 p.m., your package will be delivered in Belgium within 2-4 working days.

During the holidays and busy periods, the shipping time may be longer than described above.
Do I pay shipping costs?

From €50.- you pay no shipping costs in the Netherlands and Belgium.
How many days to change my mind do I have?

We have a 30-day return policy, which means you have 30 days from receipt of your item to request a return.

You can request a return by sending an email to info@realkingspower.com
How durable is the product?

Our entire range can be used from the moment of receipt without the need for fossil fuels and without further CO2 emissions.